A biblical story rug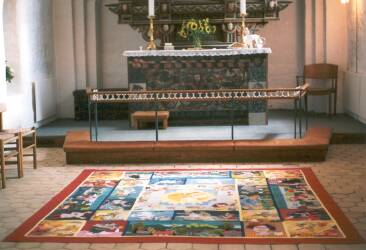 The picture is to be used as a 'rug' for children to sit around when listening to bible stories and when making up their own stories or explaining things in their own words. I've mixed bible scenes in with bits of everday life and each side has the start of a sentence to suggest a continuation.
It was commissioned in 2003 by Egaa Church near Aarhus, where it's pictured above. At two and a half meters square it's one of the biggest pictures I've made.